About Husson's Pizza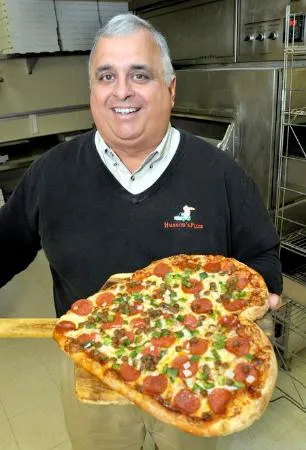 Husson's Pizza is primarily situated in the Charleston, West Virginia area. We feel proud that our business is family owned, family operated, and family oriented. Our first location was in St. Albans, West Virginia. It was opened on March 23, 1977. This store was a Dine-In or Carry-Out Location only.
We built our business on this:
"A QUALITY PIZZA, SOLD AT A FAIR PRICE
WOULD CREATE ITS OWN PLACE IN THE MARKET."
In the beginning we made pizzas on a Formica kitchen counter. All of our equipment, food, and supplies were paid for C.O.D. We wanted to make sure that we stayed ahead on everything. Our advertising was very limited; there was only good Word-of-Mouth advertising. We counted on a great product and friendly, personal service to bring customers back to us.

I worked every minute the store was open and my father (employed at another job during the day) worked every evening and on weekends. We touched every pizza that we sold, talked to our customers, and built a reputation that has lasted through the years.

After the first year, the company was solid. People would travel from the surrounding areas for our pizza. In December 1978, we opened our second store in Cross Lanes, West Virginia.

In June of the following year my wife, Sharon, and I got married and we worked every night. After we had our first child, my wife wanted to stay involved in the business, so she took over all the bookkeeping functions. She has a conservative nature that helped the business continue a controlled growth.

In March of 1982 we opened the Kanawha City store. It was the Turning Point for the company. The volume at this location was about double that of the other locations. The increase in cash allowed for a little faster expansion.

The Spring Hill store opened in March of 1984. After taking 1985 off, we came right back and opened the Teays Valley and Pinch locations in 1986 and in 1987 the West Side (Charleston) and Sissonville locations were opened and we built new buildings for our St. Albans and Cross Lanes stores.

In September of 1986, we began delivery in the Kanawha City location and by mid-October we were delivering out of all of our stores. This was a good move for us, but it is much different business from the dine-in and carry-out business. We weren't used to that.

We studied the market to a great extent to see where we could do better than our competitors.

All of 1988 was spent consolidating our position and improving our operations. We changed our marketing approach and began offering more discounts and specials than before.

In June 1989, we opened a store in Greensboro, North Carolina, although in February of 1990 we closed this location and re-opened it in West Virginia on Bridge Road in South Hills.

It is our continued expansion that offers our manager continual advancement within our company, or as a franchisee. By working hard and maintaining a high profile in the community, we are able to maintain our market share and enjoy watching it increase as we continue to polish our service and quality to the customer's door.